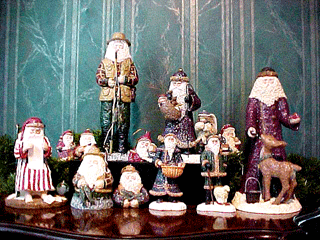 Linda Lindquist Baldwin and her Belsnickles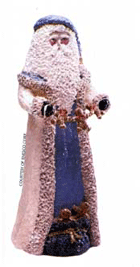 Little did Linda Lindquist Baldwin know that when, on a whim, she bought a book for a nickel at a garage sale, her life would be forever altered.
It was the summer of 1986. As a single parent, she was working two jobs with developmentally disabled adults and attending college at night. Stealing a few moments from her hectic schedule, she escaped momentarily into the pages of her nickel garage sale purchase. It was a tattered, forgotten Christmas book filled with enchanting antique paper-mache Santas called Belsnickles. Linda was immediately intrigued by these stately old gentlemen, but knew that rarity and prohibitive prices would not allow her to own one.
Despite the fact that she had never taken an art class nor had any artistic ability that she knew of, this perky little redhead decided to make one of these unique Santas for herself. She mixed up newspaper, glue and water, and, with untrained hands, tackled her first sculpture.---Thus began her new career.
By 1991, Linda's original paper-mache Santas had become so popular that she could not keep up with the demand and was years behind on orders. Therefore from 1992 through 1995 her Belsnickles were reproduced in resin by the prestigious gift and collectible company, Schmid. A nickel, symbolic of the nickel garage sale purchase that launched her art career, was placed in the base of each Santa. These Schmid pieces are highly collectible and enthusiastically sought after by collectors today.
Since 1996, Linda has designed for Enesco. In addition to Belsnickles (Santas), her charming collections have grown to include Snowsnickles (snowmen), Broomsnickles (Halloween items), Samsnickles (Patriotic pieces), Haresnickles (rabbits and Easter decorations), Littlesnickles (miniatures), Snickles (a variety of themes including Professionals and a Nautical line). She has also added Angels and a stunning Nativity, complete with richly-robed camels. These collections, too, have proven extremely popular with collectors.
Thanks to Linda, you can enjoy a Snickle for every Season , and the trademark nickel in each piece will remind you of her incredible story.
Currently, Linda is devoting more time to sculpting original, one-of-a-kind, paper-mache pieces (the original paper pieces do not have nickels) and Exclusive Editions which she individually hand-paints, signs, dates and numbers. She is also making some great lamps, both large and small.
Each December, on the first Sunday afternoon, Linda has a Holiday Celebration in her hometown, Joplin, Missouri, which is located on Historic Route 66. This is an event you won't want to miss. You will meet Linda, a warm and friendly, award-winning artist, whose creations are well known around the world. (She will gladly sign a few of your Snickles, too). And you will have a rare "chance" to purchase her original, one-of-a-kind, paper-mache artwork and her Exclusive Edition pieces. These "must have" collectibles are available only at Linda's annual Open House.