What is it and who makes it?
Ah, a question frequently asked with both a short and long version. This will have to be the short version. Of course, George Carruth is the quiet force behind Carruth Studio. Since 1983 he has been creating wonderful cast images in stone from completely original designs carved from limestone and clay.
Initially, George's work was 2 dimensional, in the form of illustrations for advertising. This was not the career of choice as the dream was always to sculpt for a living.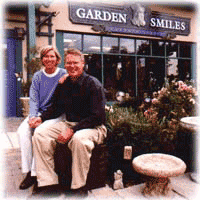 That's where I come into the picture. Do what makes you happy, has been my philosophy, and so a stone carver emerged. Commissions from the National Cathedral in Washington D.C., an ornament for the White House Christmas Tree, pieces in permanent collections across the country all indicate George's prolific nature. For more than 2 years, we fed ourselves by selling hand carved originals at juried shows and to fine galleries. When asked to put images into David Kay's catalogue, the first cast piece was born.
George's cat birdbath landed on the cover and Carruth Studio made its debut. Mind you, I was the packing, shipping, marketing, and billing department... all from our garage and basement.
There are now over 40 employees at Carruth, each dedicated to providing the best service possible. George is now both a sculptor and art director as we have added sculptors to our team. They have a wonderful time bouncing ideas back and forth and learning from one another. With some 200 original designs and over 3,500 shops nationally, we consider ourselves extremely fortunate. George has explained his motivation for casting his work as a way to take an original carving that is well crafted and make it available to thousands of people. Letters come from all over the world. They tell us that George's work makes them smile, which means they are sharing just a small part of the joy he feels when creating it. The medium has to carry only one message, that the process was a lot of fun and the final piece represents the best of him.
Birds - Frogs - Bunnies - Cats - Dogs & Critters - Christmas - Angels - Garden Smiles