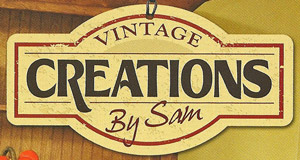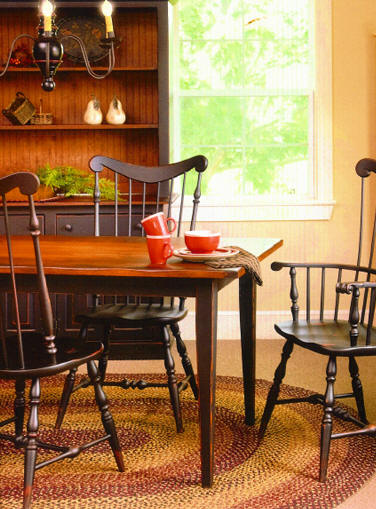 In Addition to our fine Hardwood Furniture we also now carry Farmhouse Woodcrafts Primitive Style Pine furniture made from hard Northern White Pine.
We have several pages of items for you to browse. This furniture is more affordable than the Oak, Cherry and Maple Fine Furniture we also carry.
If you're looking for a complete room or just a bookshelf unit we'll have just what you need. Available in painted or stained, standard, distressed or antique finishes.
These items are hand crafted in Lancaster County, PA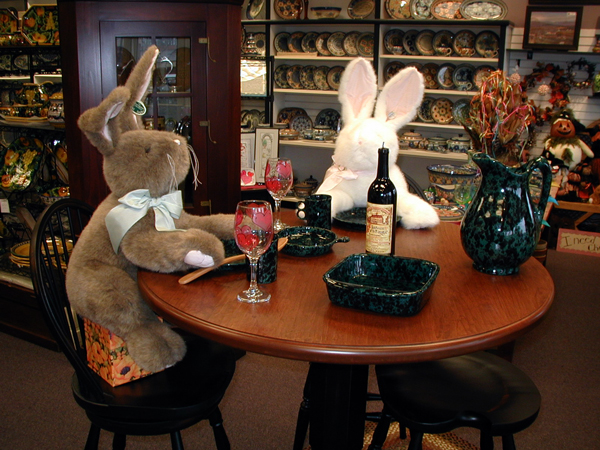 Our Easter Bunnies are enjoying a late supper on a
Hand Planed 42" High x 42"Wide Bristo Table from John Martin Windsor Chair Company in Cherry
This Table is Available Now ! Was $ 1985 - $ 1497 Today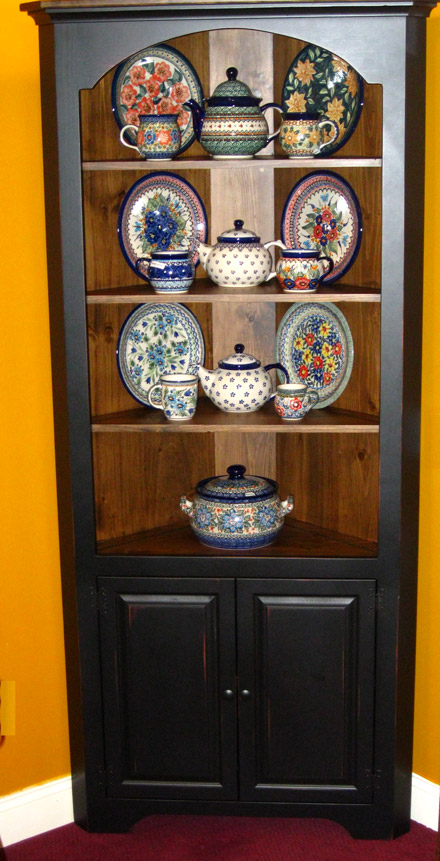 Sample of a Fine Hand Made
Corner Cupboard in Our Shop
made by
J & J Woodworks
Amish Craftsmen who
Specialize in Fine
Finished Solid Wood
Northern Pine Furniture
Also Feature Wormy Maple
Table Tops & Chairs
To See All Corner Cupboards
Another Way to Browse our Amish Made Furniture Offerings
We are compiling each furniture type on a single page
See All Available Entertainment / TV Consoles / Stands - Click Here

We're all going to the Heritage Shop !
They have Neat Stuff
In Store Sale
Non-Published Sale Specials
Every Saturday in our Shop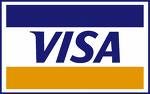 We Accept Visa - MasterCard - Discover - American Express
We Ship

Orders to West Coast may require 4 to 6 Business Days so allow time to receive your item. Florida & Mid-West are usually 2 to 4 business days
Sorry - No International orders, APO Orders or orders to Canada, Hawaii & Alaska Accepted Due to excessive shipping damages
Why we ask you to call us instead of just clicking to order
First - Your Security, No one can break into our server or database and steal your ID and credit information because we never keep your information or store it on any computer. You call or fax, we key the info into a credit terminal and shred the credit slip immediately when we get an approval code. All emails are printed then deleted by Symantec's Norton Shredder
Second - We like talking to our customers, this way we insure your satisfaction and can verify that the item you want is in stock and that we can immediately ship it to you or suggest an alternative.
Third - We don't place cookies or any ads on your system. We won't send any email spam or spyware, we don't want to annoy you in any way. We want you to enjoy shopping with us and be happy with your purchase so you'll return for other items.
So please let us serve you in the best way possible, we value your business, time and security.
Thank you
.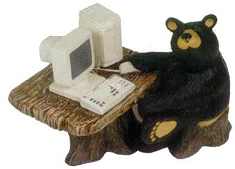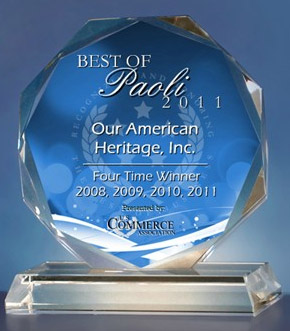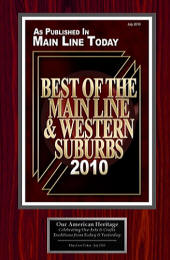 To Order call us, 866-884-3299

Fax us or
E.mail Us