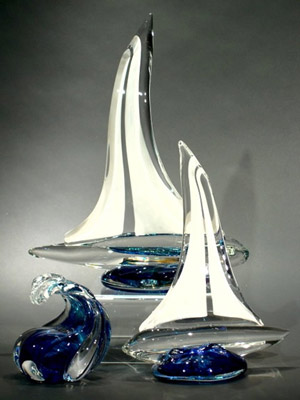 Anchor Bend Glassworks is a dynamic, art glass company based in the heart of Newport, Rhode Island, one of New England's premier destinations. Conceived as a dream shared among friends ten years ago, divergent paths have once again converged to create a renewed artistic vision.
Anchor Bend Glassworks is the confluence of four uniquely talented glass artists, each contributing a range of life, business, and art expertise to the collaboration.
The mission of Anchor Bend Glassworks is to infuse traditional art glass production with the vitality and originality that is demanded by contemporary consumers.
Highly trained in traditional glassblowing techniques, the partnership has over 40 combined years of creative experience in the hot glass studio. All have apprenticed under a selection of achieved glassblowers throughout the country.
Anchor Bend Glassworks delivers up-scale, decorative, quality art glass products in a variety of configurations.
Small Sailboat - Approx 10"H x 8"W - $ 168 (In Stock)
Large Sailboat - Approx 13"H x 10"W - $ 233 (Special Order - Allow 1 Week)
The Wave - See Below
Note: The Hearts below may
be engraved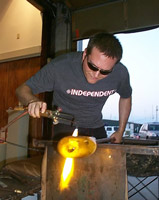 Justin James Tardducci has a BFA studied conceptual art in the prestigious glass program at the Rhode Island School of Design. His training involves working with many other talented glass artists including Michael Shiner, Tom Farbanish, and Boyd Sugiki. Justin Tarducciís personal style has evolved from years of factory production and intensive academic training. Justinís original blown lamps can be seen at Alma, a restaurant in Brooklyn, NY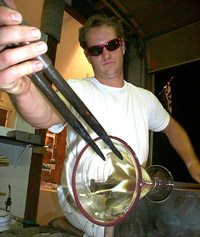 Timothy Underwood: An accomplished conceptual glass artist and a veteran of numerous craft shows. Technically proficient, Timís style has evolved through intensive hands-on studio experience. Years as production gaffer have honed his managerial skills. His hot shop exposure includes working with Karen Willenbrink, Marc Weiner, Tom Farbanish, and Matthew Buechner. His original work can be seen in Rhode Island, and New Hampshire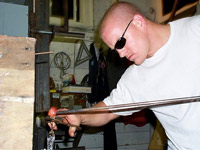 Michael James Richardson has a BFA from St. Michaelís College in Vermont. Skilled marketing and studio manager. 12 years of intensive exposure in the glass industry has provided thorough knowledge in all production support systems. Michaelís training includes working with established artists like Alan Goldfarb, Matthew Buechner, and Chris Watts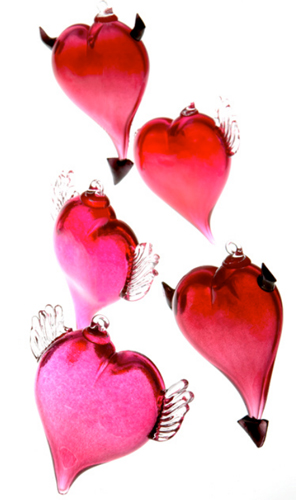 Angel Heart Ornament
(Red with clear wings)
Devil Heart Ornament
(Red with black horns and tail)
3.5" to 4"wide
Your Choice $ 38.50 each
(Limited Edition)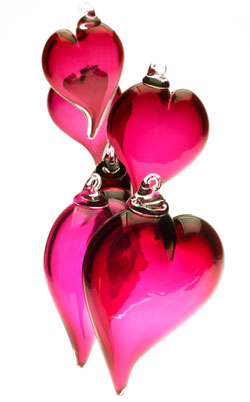 Regular Heart Ornaments
Regular Heart Ornaments
3.5" to 4"wide
$ 38.50 each
"The Wave"
Extra Large - Approx 6.5"H x 6"W - $ 248.50
Special Order Only - Allow 2 Weeks
Large - Approx 5"H x 5"W - $ 113 (In Stock)
Medium - Approx 4"H x 4"W - $ 91 (Special Order - Allow 1 Wk)
Small - Approx 3"H x 3"W - $ 45 (Special Order - Allow 1 Wk)
Each Wave contains a core coloration that blends 4 different tones
of blue glass and is accented with white glass powder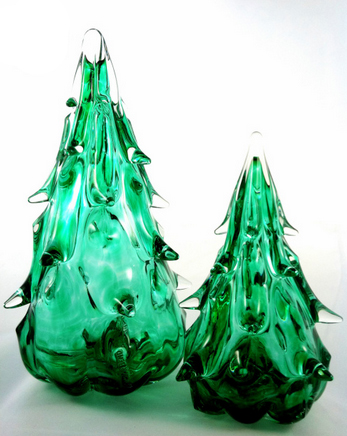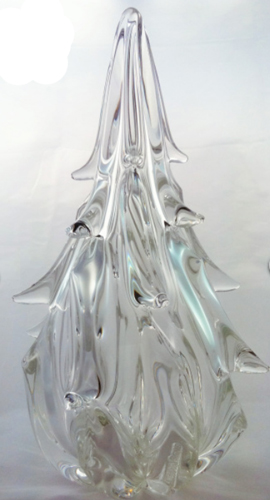 Christmas Trees (New Style - Either All Green or Clear)
Note: Anchor Bend has revised their Christmas Trees
New Style Available in All Green or Crystal Clear
Large - Approx 9" Tall - $ 63.50
Small - Approx 6.5" Tall - $ 46.50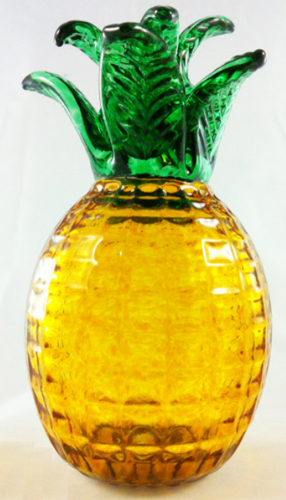 "The Pineapple"
Approx 5"H x 3"W - $ 63.50 (Limited Edition)
Large Pineapple 8"H x 5"W - $ 144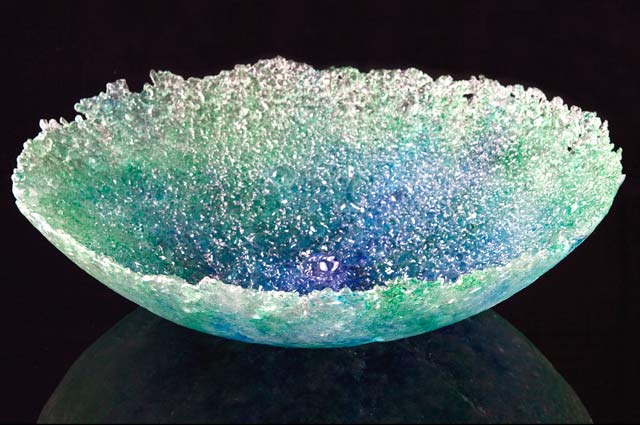 Seascape Bowl - 13"Wide x 3"High

- $ 383

(Other Sizes Available - Call)Stunning mosaic glass sculpture combines multiple production< techniques. Each mosaic section is hand made and assembled together for the fusing process
Large Pineapple 8"H x 5"W - $ 144