From "The Basket Patch"
Hand Crafted country Ceramics made in the Cherokee Mountains of Georgia
Linda hand crafts these wonderful ceramic pumpkins and now has added a snowman. A native of the Georgia mountains she has hand crafted baskets and ceramics for more than 40 years. These wonderful, fun holiday pieces range in size from almost 18" high and 12" wide down 7" high and 5" wide. The largest is almost 1/2" thick. All have the wonderful removable Top Hat that is Linda's trademark for her fun faces. These are always limited in quantity and are sure to please.
Sizes are approximate - No two exactly alike - Use with Candles or Electric - Made of Hand made Stoneware - 1/4 to 1/2"Thick
To Order Merchandise on Our Website Please Phone Us Toll Free 866-884-3299 or 610-695-8151
Real People will answer 10 to 5 Eastern Time Tue to Sat or order by fax or
After Hours Please leave a message, your name and a phone number and time when we can call you back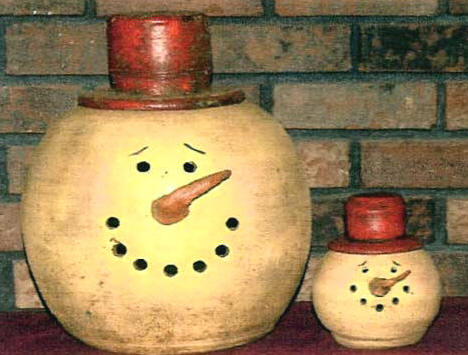 Snowball
Available Now!
#5 is the Largest at 16"h x 10.75"w - $ 135 (on left)
#4 is the next size down at 14"h x 9.5"w - $ 109.50 Sold Out
#3 is the Large medium at 12.5"h x 9"w - $ 94.50
#2 is the Small medium at 11"h x 7"w - $ 84.50
Small is 7.5"h x 5"w - $ 49.50 (pictures on right)
Snowball is the smallest at 6"h x 4.5"w - $ 39.50
All Sizes are Approximate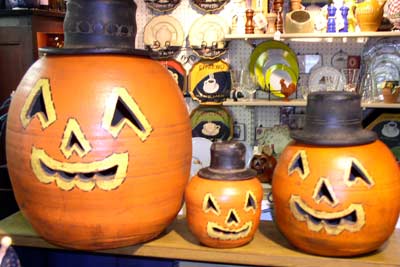 Pumpkin Man
Available Now!
#8 is the Largest at 17.5"h x 12"w - $ 138.50 (on left)
#5 is the next size down at 16"h x 10"w - $ 114.50
#4 is the Large Medium at 14"h x 9.5"w - $ 98.50
#3 is the Small Medium at 12.5"h x 9"w - $ 92.50
Sorry - Size 3 is Sold Out
#2 is the next Smallest at 11"h x 7"w - $ 68.50
Pee Wee is the smallest at 7"h x 5"w - $ 32.50 (middle)
All Sizes are Approximate