An American Classic: The Albany Slip Two-Handled Jug (2003)
Rowe Pottery Works, famous for creating museum-quality reproductions of early American pottery, now offers a limited production jug with authentic Albany Slip glazing.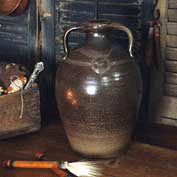 Albany Slip glaze was made from a natural glacial clay discovered in Albany, New York in the early 1800s. "Slip Glaze" is the potter's term for a glaze made from clay mixed with water.
Albany Slip glaze is characterized by its deep-brown color. It was common on earthenware, stoneware and salt-glaze pottery throughout the 1800s. It is the natural brown often associated with bean pots. It can be altered to produce a wide range of earth tones.
Durable and decorative, Albany Slip was often used as an interior glaze on salt-glaze pottery. It melted smoothly to form an impermeable glass coating, perfect for storing liquids and for ease of cleaning. Its popularity spread among potters throughout North America with the expansion of the railroad system.
Once common, Albany Slip is now a rare substance. Much other clay was mined in the Midwest during this time and also became known as Albany Slip, however, it is not true Albany Slip clay. The original Albany mine closed in 1986 due to difficulties in extracting the clay. Since then, commercial supplies have been exhausted. Only small stocks remain in private hands of potters who treasured the colors of true Albany Slip.
Rowe Pottery Works is using its own remaining inventory of true Albany Slip clay, one of the last known stock, in making of this special historical Two Handled Jug. In order to reserve our stock, we are introducing only one Albany Slip collectible per year.
This jug truly represents a bygone era of American pottery. It is an expression of the quality and craftsmanship of Albany Slip pottery of the 1800s. It is grand in size, holding approximately two gallons and weighing more than 10 pounds. It is decorated with a primitive bird sprig, a hand-combed pattern, two pulled handles and glazed with true Albany Slip clay on the outside.
Each Jug will have a variation of the "orange-peel" effect due to the salt glazing process. This variation enhances the uniqueness of each pitcher - no two will be exactly alike! A collector's treasure, this showpiece will be available for a limited time.
Albany Slip Two Handled Jug - 15"H x 9"W
(Sorry - Sold Out)
---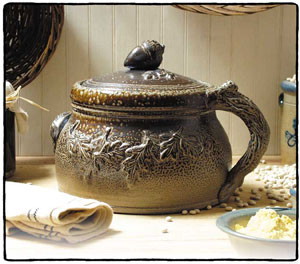 Albany Slip Bean Pot - Limited Edition for 2004
The Albany Slip collection continues in 2004 with the introduction of the Bean Pot. Third in a series of handcrafted pottery decorated with true Albany Slip clay and fired in the traditional salt-glaze manner. The 2004 Albany Slip Bean Pot comes with a recipe card for Grandma Rowe's Beans and a Certificate of Authenticity signed by Jim Rowe that includes the history of the bean pot and the important relationship it had with the 19th century potter.
Albany Slip Bean Pot - 9"H x 12"W
(Sorry - Sold Out)
The Potter and the Bean Pot
The potter has always been a valuable resource in rural communities. Pottery was the most popular product produced by the potter, but not the only one. Radiant heat created by the wood burning kilns was a by product that was used by the women of the community to bake beans. As we know, beans take many hours to cook and since the potter would stoke his kiln with wood for 24 to 36 hours at a time to reach the ideal firing temperature, this created a great opportunity for beans to bake. The bean pot shape was even created for baking next to a kiln. It was made of stoneware that the potter crafted from clay he gathered from a nearby riverbed or creek. The looped handle made it easy for the potter to use his hooked rod to move the bean pot from hot spots by the kiln. The properties of stoneware could withstand the heat of the kiln and would help create an even bake. The stoneware would also keep the beans warm long after it was taken home. Rowe Pottery Works 2004 Albany Slip Bean Pot is decorated with true Albany Slip clay and fired in the traditional salt-glaze manner. Our craftsmen have added original touches like oak leaves, acorn lid and bark lug and handle to commemorate the forests that kept many of our forefather's kilns burning for days on end.