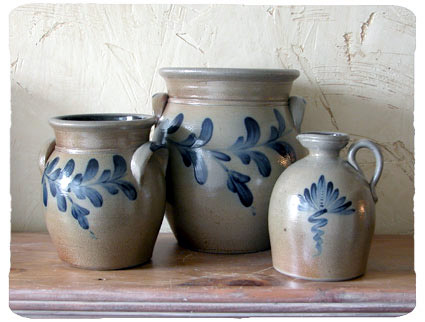 The Small Ovoid Jar 7.75"h x 6.5"w
(on the left in the picture)
Used widely during the mid-19th century, these jars were commonly used to a variety of goods including meats preserved in dry salt, lard, pickles, and fruit butters produced in large quantities.
Sorry - Sold OUT
The Large Ovoid Jar 10.75"h x 9.5"w (in the center in the picture) -

Sorry - Sold OUT
Molasses Jug 1.75 Quarts 7.25"h x 5.25"w (on the right in picture) Sold Out
Molasses Jug is Sold Out - No Longer Available
Used to hold the standard sweetener of the 19th century, the molasses jug held bulk quantities of the sweet, sticky semi-liquid. These and other jugs helped create a musical phenomenon of the late 19th and early 20th centuries known as "jug bands". The jug was also known as "the poor man's tuba."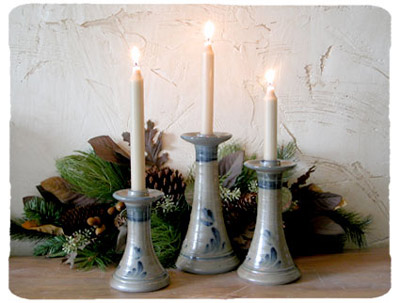 Southern Candlesticks
Set of 3 in 6", 7.5" & 9" heights -
Sold Out - No Longer Available
Candlesticks made in stoneware were extremely rare. These candlesticks, inspired by a southern influence graced the tables of the growing middle class, providing an affordable, yet simple elegance to the 19th century home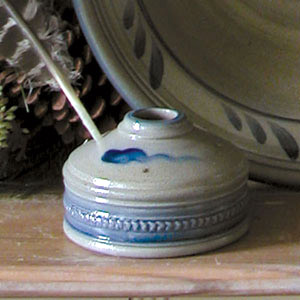 Inkwell - 4"w x 2.5"h
Sold Out - No Longer Available
Perhaps used by our founding fathers to sign the Declaration of Independence, the stoneware inkwell was an essential part of written communications before giving way to glass and porcelain models in the 1850's. Comes with feather and instructions to make a genuine quill pen.