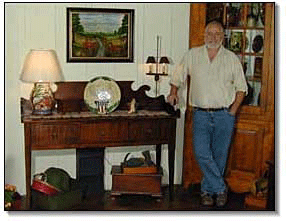 Pottery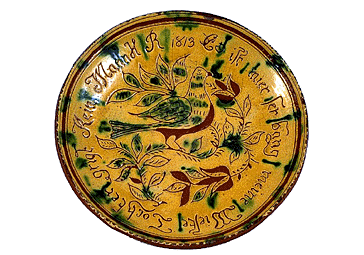 Turtle Creek Pottery is handmade and individually decorated, so there will be variations in size and color. The lead glazes on David Smith's pottery makes the pottery suitable for decorative use only.
THE POTTERY MAKERS - FORMS
The forms used are universal, and have been used for centuries.
Slab-formed pottery uses clay, rolled out into "slabs" and pressed/draped onto wooden molds to create plates, platters, and trenchers. Thrown forms such as plates, pots, and bowls are individually created from a ball of clay on the potter's wheel.
Hand-built items are sculpted from the raw clay, and are usually animal or human figures that were probably made to amuse a child.
DECORATIONS
Several decorating methods are used on Turtle Creek Pottery. Quilling, slip trailing, sponging, and sgraffito are all techniques that you will see on David Smith's pottery.
The simplest of methods, Quilling, uses a cup with feather quills to drizzle white slip clay onto a wet slab of clay that will be drape molded to make a plate. Slip trailing is a similar technique that uses a quill cup with a single quill. The slip (liquid clay) is then applied on a dry plate or pot in a more intricate raised design.
Sponging is a spontaneous style decoration that can be done multicolored on yellow slip background or single manganese sponged on red clay.
Sgraffito is the most detailed of all. After slip is applied to the pottery, a pointed tool is used to scratch a fine design through the slip into the red clay. Sometimes splashes of copper or manganese are put over these designs to add color.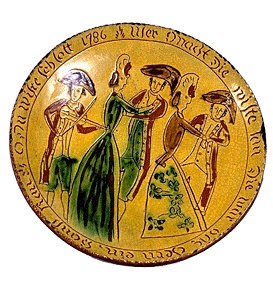 THE REGIONS
If you are a pottery student you will notice some European pieces in David Smith's collection. Polychrome English Delft, German Slip-ware, and French-style pots are represented, but the focus of the collection is American.
Redware was made all over America, but every region had its own look - Connecticut, for its Norwalk Pottery with its large flowing letters. North Carolina had the Moravians who detailed the flowing slip-trailed flowers on jars and plates. The Shenandoah Valley of Virginia is famous for the Bell Pottery and its Lions. However, the most famous and prolific area for Redware pottery was Eastern Pennsylvania where the immigrant German population produced this art until the end of the 19th Century.
Redware Pottery History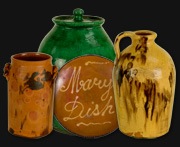 The 18th and 19th century pottery of New England was plainly decorated, utilitarian ware. These pots were thrown with finely detailed handles, lids and incised lines. The pot decoration was usually a simple slip decoration that could have been simple black manganese to yellow slip with multicolor slips sealed with a lead glaze. The slip trailed name plates from the Smith Pottery in Norwalk, Connecticut are the inspiration for our plates with writing.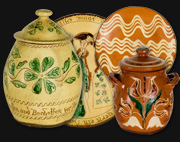 The potters of Pennsylvania were the most prolific and artistic of all American Redware potters. Their forms were thrown, slabbed, coiled and hand built. Their decoration consisted of simple solid color glazes, to the multicolored, very detailed slip trailed and sgraffito ware highly prized by collectors today. The simple red slab plate with the yellow, wavy slip lines is also a classic Pennsylvania pottery form.

The potters of the Shenandoah Valley in Virginia are known for their mottled yellow slip, copper, and manganese decorated flower pots. The most famous potter family from this region was the Bell family. A large hand built yellow slip decorated Bell lion is a classic of American redware pottery. They also made many pottery forms such as jars, flower pots, and pottery for daily use by the people of this valley.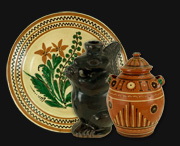 The potters of Old Salem, North Carolina came from Pennsylvania and central Europe. Their pottery consisted of thrown plates and jars and molded or cast animal bottles. These plates and pots were usually slip trail decorated over a red or yellow background.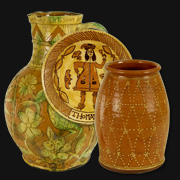 The earliest American potters of the 17th century brought their trade from England, Germany, and Europe; bringing with them their respective styles and techniques. As you learn more about American Redware, you will see the similarities in the forms and decoration to this European pottery.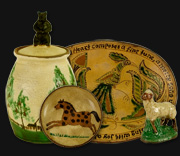 We use many historical sources to inspire our "Folk Art" pottery. Designs from period fireboards, paintings, hooked rugs, needlework, frakturs, wall paintings, and quilts have all been used for our pottery designs. One of our most popular "Folk Art" design pottery styles is our "Bears and Pears" pottery. It is used mostly on pots and lamps. It was inspired by a fireboard in a New York museum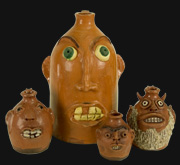 Southern/Authentic Reproduction

When most people think of traditional Southern pottery, the first thing that comes to mind are "Face Jugs". Folk lore tells us that these jugs were made by African American slaves to drive away evil spirits. These free spirited pots all have a unique personality and are usually named.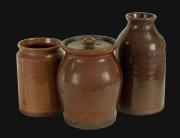 Frontier/Authentic Reproduction

The redware pottery of the Mid West is usually very plain in style and decoration. This simple pottery was a staple for daily use and was seldom, if ever, decorated.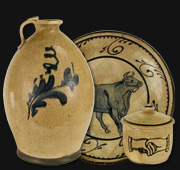 Redstone

Our "Redstone Pottery" has the look of salt glazed stoneware, but is actually earthenware pottery with a grey slip covering with typical cobalt blue decoration. We use the floral and animal designs as seen on 18th and 19th century stoneware. Authentic salt glaze pottery is very expensive today. Our Redstone pottery can complement your salt glaze collection. Our Redstone lamps are always popular at the folk art shows in which we participate.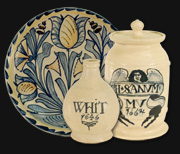 English Delftware

Our Delftware has the look of traditional English tin glazed Delftware, but is actually made of Redware pottery with a white slip base coat, that is decorated with a polychrome slip decoration. We use the same thrown plates, chargers, pots, and apothecary jar forms seen on the English pieces. The decorations are also similar. Florals, oriental scenes, Adam & Eve, and portraits of William & Mary are all common designs that we use on these pieces.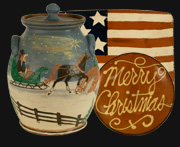 Seasonal

We make a variety of pieces that are decorated to celebrate various holidays and seasons. Christmas, Halloween, and 4th of July are all seasons that are featured on our work. Our Christmas and Halloween pottery can have detailed Folk Art scenes showing people and much detail; or, can simply say "Merry Christmas" or "Happy Halloween". Turtlecreek's red, white and blue Patriotic flag pottery is also very popular.
Society for the Preservation of New England Antiquities (SPNEA)

The Society for the Preservation of New England Antiquities (SPNEA)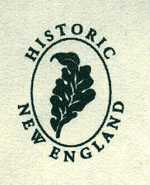 is a museum of cultural history which collects and preserves buildings, landscapes, and objects that reflect New England's daily life between the the mid 17th century and the present. Founded in 1910 to protect New England's cultural and architectural heritage, SPNEA's vast collection of furniture, paintings, decorative arts, and household objects – many on view in their original locations at the historic houses – documents 350 years of domestic life in New England.
We are proud to be licensed to reproduce furniture,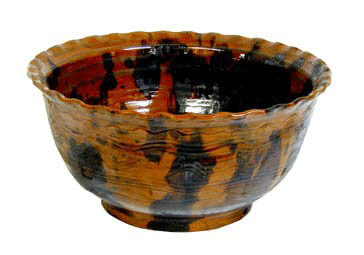 and redware pottery, from the SPNEA collections of Cogswell Grant and Beauport. Through our research on visits to the museums, and using drawings and photos, our reproductions are exact handmade reproductions of the original pieces.
Our American Heritage carries a large selection
of David Smith Pottery and Lamps.
Please Note: All Hand Made Items Are Unique, pottery may vary in color, pattern, shape, size or other physical characteristics. These are traits of hand
craftsmanship, no two pieces made by hand can be exactly the same, these are signs of uniqueness and NOT defects.